Bus from Windsor to Toronto
Book your bus ticket to Toronto from Windsor today
Duration
4 hours 25 minutes (fastest time)
Departures
Up to 2 services per day
Why travel with megabus?
* Subject to availability
Windsor to Toronto bus details
Our route AT11 bus stops at 4 stops between Windsor and Toronto. The bus sets off from Windsor Ontario International Transit Center at 300 Chatham St. W Windsor, Ontario N9A 0A8 and drops you off at Toronto, ON Bus Stop located at 81 Bay St.
Windsor
Toronto
There are two megabus.com bus stop locations in the Toronto metro area. Please check your ticket for the correct stop, as not all schedules serve both locations!
Toronto - Union Station Location
The Megabus stop location in central Toronto has now moved to the new Union Station Bus Terminal located on the northeast corner of Bay St & Lakeshore Blvd. next to the train station and across from Scotia Bank Arena. Customers can cross the Bay St. bridge from the arena to enter the USBT on the second floor.
300 Borough Drive Location - adjacent Scarborough Centre Station
The megabus stop location at 300 Borough Drive is located at the Bus Station near to the Scarborough Center Subway Station on the #3 Subway Line.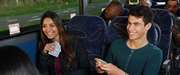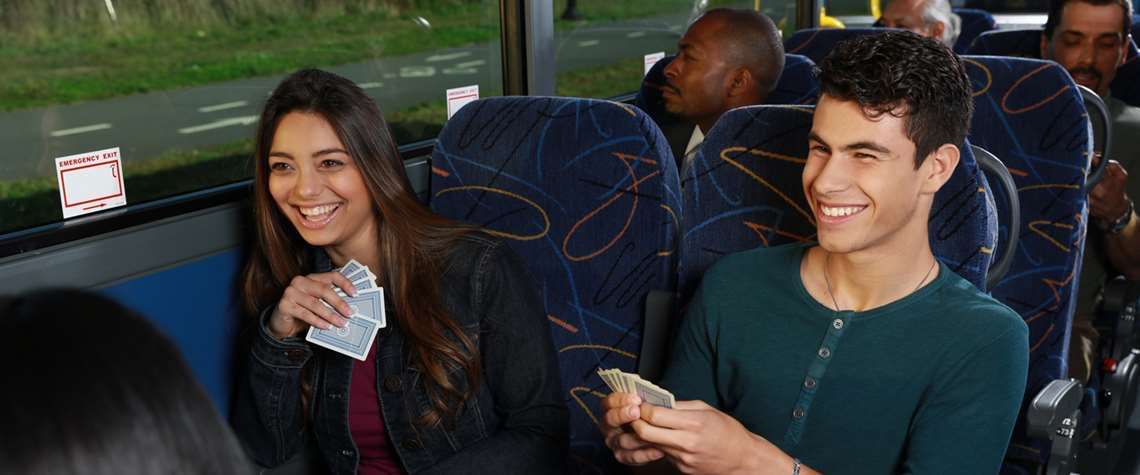 Our Buses
We are very proud of our fleet of state of the art buses.
Individual power outlets*
Reclining seats
Reserved seating
Onboard Restrooms
* Subject to availability
Frequently Asked Questions
How long does it take to travel from Windsor to Toronto by bus?
The fastest bus from Windsor to Toronto takes 4 hours 25 minutes
When is the first bus from Windsor to Toronto?
The earliest bus from Windsor to Toronto leaves at 8:43 AM
When is the last bus from Windsor to Toronto?
The latest bus from Windsor to Toronto leaves at 4:20 PM
How many daily bus trips are there from Windsor to Toronto?
Megabus runs up to 2 trips per day from Windsor to Toronto