Bus safety standards and driver training
Megabus is all about safety – for our customers, for our drivers, and for those on the road with us.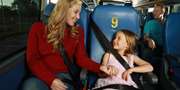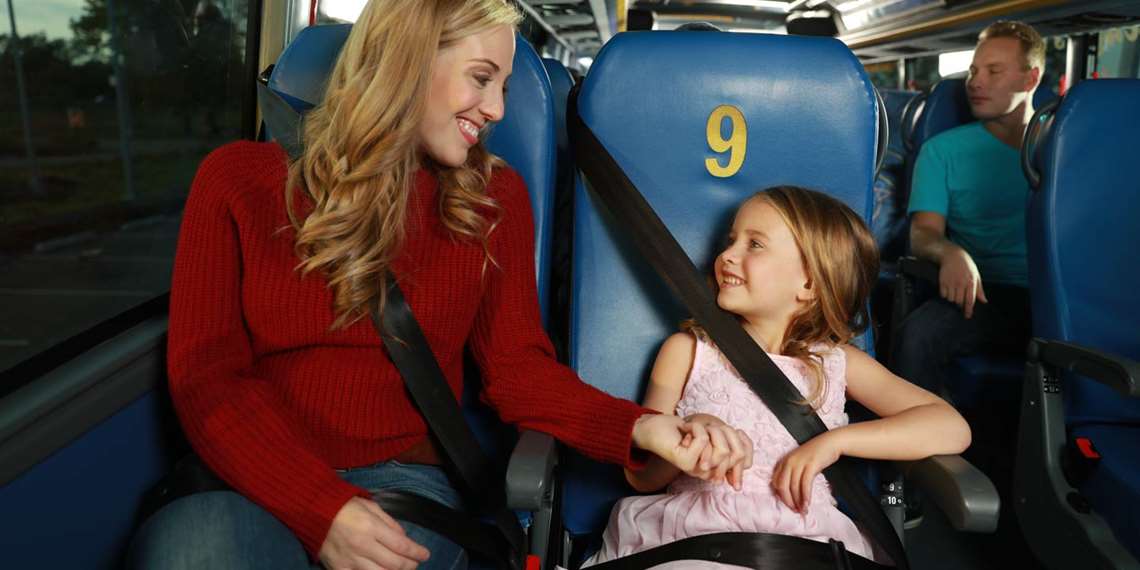 Our entire double decker bus fleet is meticulously kept in top operating shape. Each bus undergoes preventative and regular maintenance year-round.
All seats on our double decker buses have safety belts and each bus is equiped with rear view back-up cameras to assist our drivers in navigating safely and efficiently.
Tire monitoring and safe lane-changing features are available to all drivers on our buses while they get you to your destination securely and on-time.
Our drivers are extensively screened and must complete a number of rigorous training courses to be considered to drive for megabus.com.
Drivers are subject to random drug and alcohol tests and must attend periodic safety courses once they are part of the megabus.com team.

Each bus is monitored via GPS tracking at the megabus headquarters in Paramus, New Jersey. This is to ensure that all buses make their way safely and on-time to their destination.
With megabus, we make sure that every means of support is readily available for our customers as well as our drivers – and we know exactly where our buses are 24/7, 365 days a year.
Our buses also come fully equipped (and our staff fully trained) to accommodate passengers who may have a disability.

So is megabus safe? Without a question. Statistically safer than driving your car, in fact.
We've made it our mission to provide motor coach and bus travel that is by-far one of the safest ways to get you where you need to go - and we're quite proud of it.
Megabus driver training
Megabus provides the absolute highest quality of bus driver training – the safety of the public and our customers will not be compromised for any reason. We urge all new customers to experience this for themselves.

Our driver training programs, right from the beginning, revolve around safety and customer service.
The focus of our training is to ensure that all drivers are prepared to meet the megabus.com road and customer service standards, and then to exceed them.
Thorough background checks are performed on all driver candidates, and candidates must pass an in-depth psychological exam before they can enroll in the megabus driver school, located in Elizabeth, NJ.

In order for drivers to stay fresh and at their best, our company policy demands drivers cannot be behind the wheel for more than 10 hours a day.
In addition, megabus greatly exceeds federal standards for the amount of off-duty rest time mandated for drivers. We don't believe in bare-minimums or cutting corners – especially when it comes to the safety of so many and the health of our wonderful drivers.

Along with sophisticated computer software, speed, brake and acceleration recording measures are in place on all of our buses to ensure your trip is going as smooth as our standards demand.
All drivers and the surrounding traffic are camera monitored along the way – and all journey information is monitored in real-time at the megabus headquarters.

1. Watch Your Speed.
2. Check Your Mirrors.
3. Stay Alert & Stay Safe.
4. Safety is our First Priority.

Each driver as they depart from megabus headquarters must read aloud these safety reminders from a prominent sign placed at our gates. It's safe to say, our drivers understand their importance.
Megabus customer satisfaction
Megabus supervisors and drivers all receive specialized customer service training, and our staff learn from day one the necessity of a positive and consistent attitude of helpfulness and attentiveness.
It's no coincidence that the megabus.com company culture fosters a great experience for our customers.
We are proud of the work we do, the service we provide, and we're grateful for your business each and every time you book with us.

Since 2006, megabus has served more than 50 million customers across North America. And we're just getting started.

For your next adventure, homecoming, weekend away, or odyssey across this great land, ride with megabus and connect to happiness.